Anne Grant of Laggan
Correspondent, Poet, Memoirist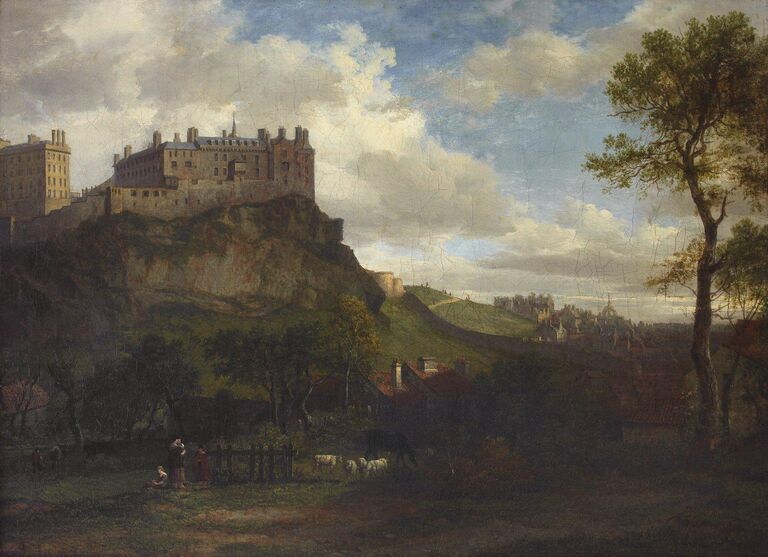 Anne MacVicar Grant of Laggan was a prolific writer of poetry, correspondence, and memoirs. Her success as a poet secured her place within Edinburgh's cultural elite. Her letters show her engagement with books and periodicals.
Image: Edinburgh Castle from the south west by Patrick Nasmyth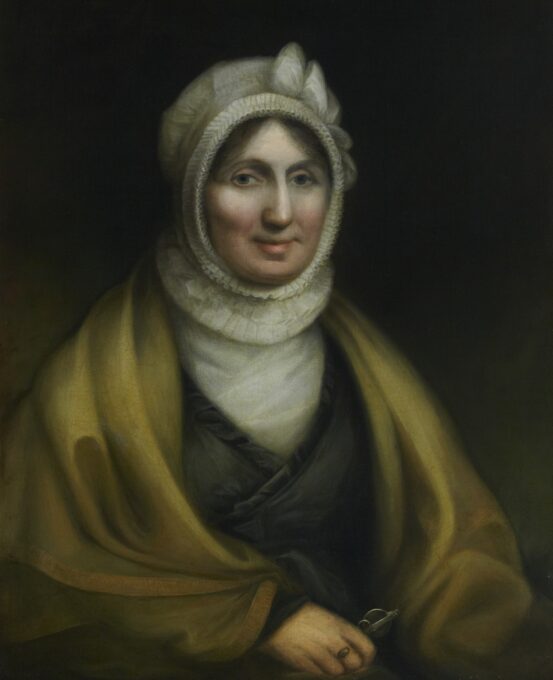 Glasgow-born Anne MacVicar was three years old when she and her mother travelled to New York to join her father, a soldier who was serving in the Seven Years' War. She grew up reading Scottish poetry, the Bible, and Milton. The family returned to Scotland in the late 1760s. Her father became barrack-master at Fort Augustus in 1773 and she met military chaplain James Grant there. The couple married in 1779. James Grant took charge of the parish of Laggan in the same year.
Anne Grant of Laggan (1755-1838)
| | |
| --- | --- |
| Creator | James Tannock |
| Date | after 1815 |
The couple had twelve children, but Grant kept up a lively correspondence with many friends. She learned Gaelic and got to know her husband's Highland congregation. When her husband died in 1801, Grant was left with a small pension and eight surviving children. She turned to her pen and in 1803 published, by subscription, verses she had written to her correspondents over the years, under the title Poems on Various Subjects. More than 3,000 people from across the globe subscribed, making the book a success.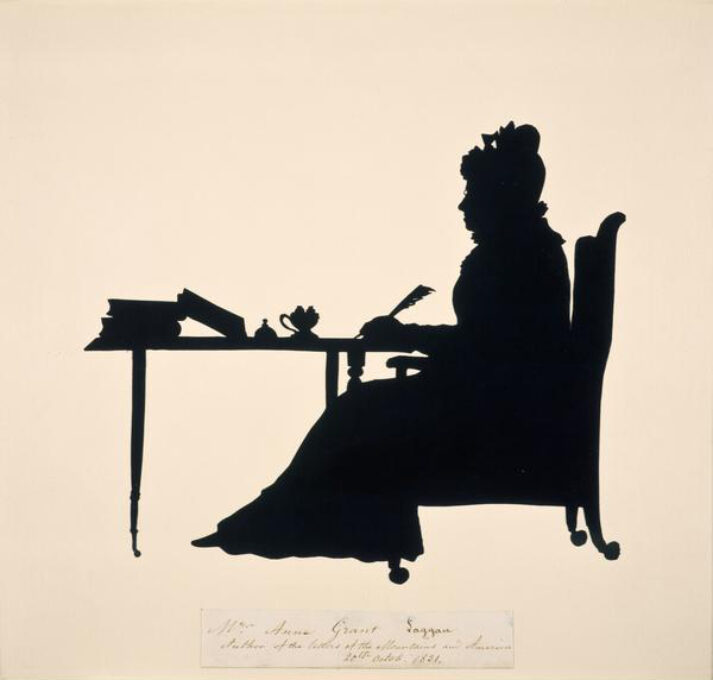 Anne Grant next published Letters from the Mountains; Being the Real Correspondence of a Lady between the Years 1773 and 1807 (1807), which recounted her experiences of rural life in the parish of Laggan, and Memoirs of an American Lady (1808), which described her early years abroad. Both works featured vivid descriptions of landscapes and sketches of life and manners. Her ambitious Essays on the Superstitions of the Highlanders (1811) expanded on Letters from the Mountains by offering an ethnographic study of Highland culture.

Anne Grant
| | |
| --- | --- |
| Creator | Augustin Edouart |
| Date | 1831 |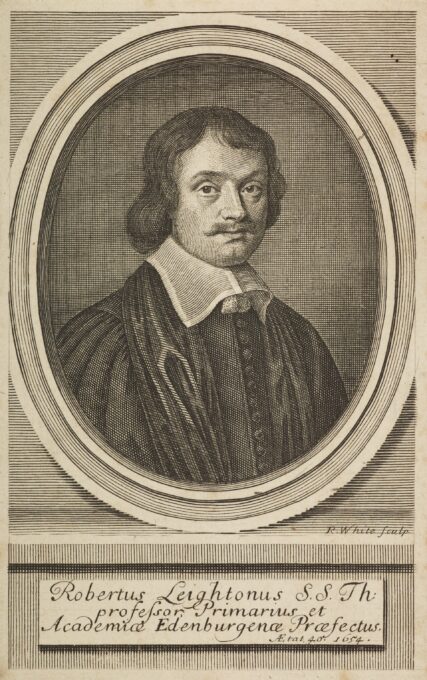 Grant's Poems of 1803 included 'Second Day', an account of a journey from Glasgow to Laggan. In it, Grant has a vision of Bishop Robert Leighton (1611-1684), Principal of the University from 1653 to 1661 and the founder of the Leighton Library in Dunblane (another of the libraries studied in the Books and Borrowing project).
With Allan's shady margin green,
Where simple piety is seen
To flourish with unfading grace,
Since LEIGHTON taught and blessed the place.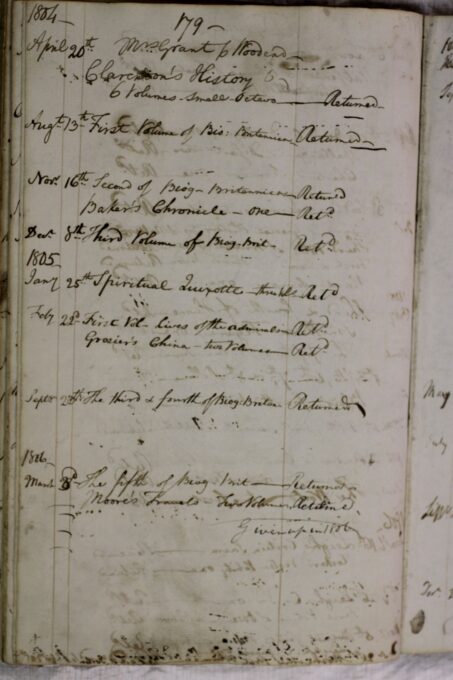 Grant borrowed books from the Leighton Library while resident from 1803 to 1810 at Woodend, near Stirling. Some of her borrowings of biographical and historical works may reflect the teaching she did by taking in boys as boarders. She moved to Edinburgh in March 1810.
Mrs Grant, Woodend
| | |
| --- | --- |
| Creator | Leighton Library |
| Date | 1804-1806 |
| Place of creation | Dunblane, United Kingdom |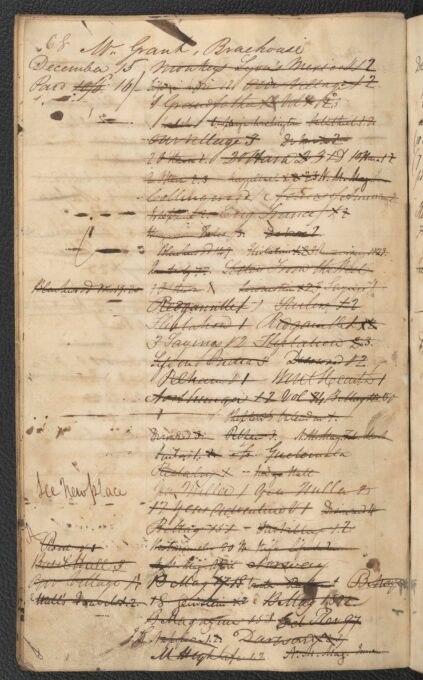 Grant took out a 'New Books' quarterly subscription to Chambers' Circulating Library on 15 December 1828, which she renewed several times. She borrowed 133 novels, travel books, and periodicals. Grant accessed other Edinburgh libraries, even those normally reserved for male users. In a letter of 1824, she says: 'We have … literary luxury in this house, for my son has the privilege of the Signet Library … and of the College Library … and half a dozen young advocates offer me the choice from theirs'.
Mrs Grant, Braehouse
| | |
| --- | --- |
| Creator | Robert Chambers |
| Date | 1828-1829 |
| Place of creation | Edinburgh, United Kingdom |