William Robertson
Minister, Historian, Principal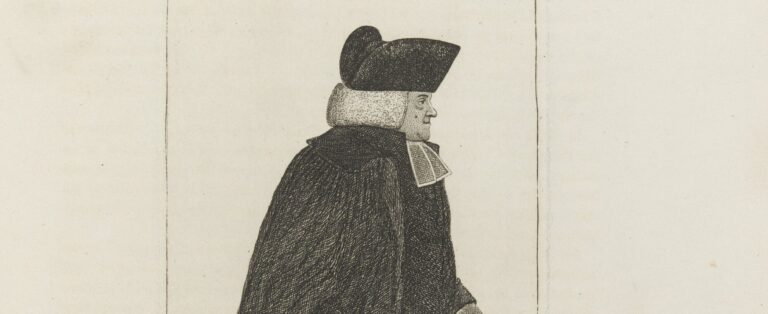 William Robertson is a pivotal figure in the history of the Scottish Enlightenment. As Principal of the University of Edinburgh from 1762 to 1793, he modernised the institution's buildings, library and curriculum, especially in medicine and its related disciplines.
Image: His Majesty's Historiographer, 1837, by John Kay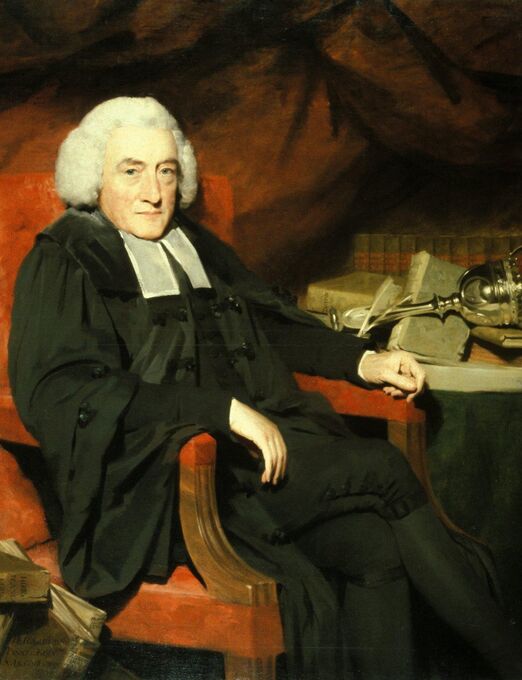 When he became Principal in 1762, Robertson was famous for his History of Scotland (1759). This work established his intellectual reputation and, along with his histories of Charles V (1769), America (1777), and India (1791), made him one of the most-read historians of the eighteenth century. His writings also appeared in periodicals such as the Edinburgh and Critical Reviews. He was one of the most prolific users of the University Library with more than 3500 borrowings.

William Robertson (1721-1793)
| | |
| --- | --- |
| Creator | Henry Raeburn |
| Date | 1792 |
| Place of creation | Edinburgh, United Kingdom |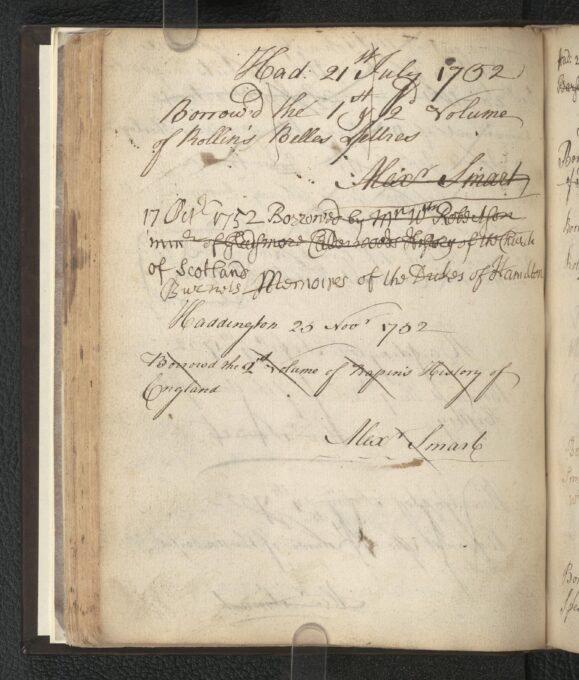 Robertson studied divinity at the University in the 1730s. He passed trials in ancient languages, theology, and oratory to become Minister of Gladsmuir parish in Haddington in 1742. He maintained contact with his fellow students, forming a network of like-minded young clergyman.
The John Gray Library at Haddington provides early evidence for Robertson's library use. His interest in history is apparent in his loans of 'Calderwoods History of the Church of Scotland' and 'Burnets Memoires of the Dukes of Hamilton' in October 1752.

Robertson's Borrowings from Haddington Library
| | |
| --- | --- |
| Creator | Haddington Library |
| Date | 1752 |
| Place of creation | Haddington, United Kingdom |
Robertson's leadership transformed Edinburgh's Town College into a university of international standing. His appointments of leading scholars as professors secured its international reputation, especially for the Edinburgh Medical School. The books professors appointed by Roberson wrote informed the University curriculum and were among the most popular student borrowings from the University Library.
Click the images to learn more about some of Robertson's distinguished professors and their students.

When Samuel Johnson visited Edinburgh in August 1773, his guide James Boswell was keen to impress him by presenting the stars of the Scottish Enlightenment. A visit to Holyrood Palace was a highlight with Boswell 'much entertained while Principal Robertson fluently harangued to Dr Johnson upon the spot concerning scenes of his celebrated History of Scotland. We surveyed that part of the palace…in which our beautiful Queen Mary lived, and in which David Rizzio was murdered….' (Boswell's Edinburgh Journal, 16 August 1773)

Queen Mary's Bed-Chamber, Holyrood
| | |
| --- | --- |
| Creator | George Cattermole (illustrator) |
| Date | 1847-1854 |