Through the Eyes of 'P'
Exploring a Beach in Coll

Meet P (she/her), a lecturer and academic at the University. She describes herself as having "serial passions" which have taken her to many different places, like Argentina to enhance her knowledge of Argentinian Tango. To P, dancing is a peaceful activity as it is all about establishing a connection with music. She has also done competitive cycling, and is a French cycling champion for her age group. At the moment she is most interested in running, due to the way in which it transports her into a meditative state.
P chose A Beach in Coll, a coastal landscape painting that made her feel dreamy, as it reminded her of freedom, travel and the wind. P was drawn to the painting because it depicts the sea, and more specifically because it is an image of the Inner Hebrides of Scotland. To P, it brings back memories of cycle touring in the Hebrides, taking a tent with her on her bike and exploring remote islands like Coll. For her, this image is a reminder of seeking peace and tranquillity in secluded places.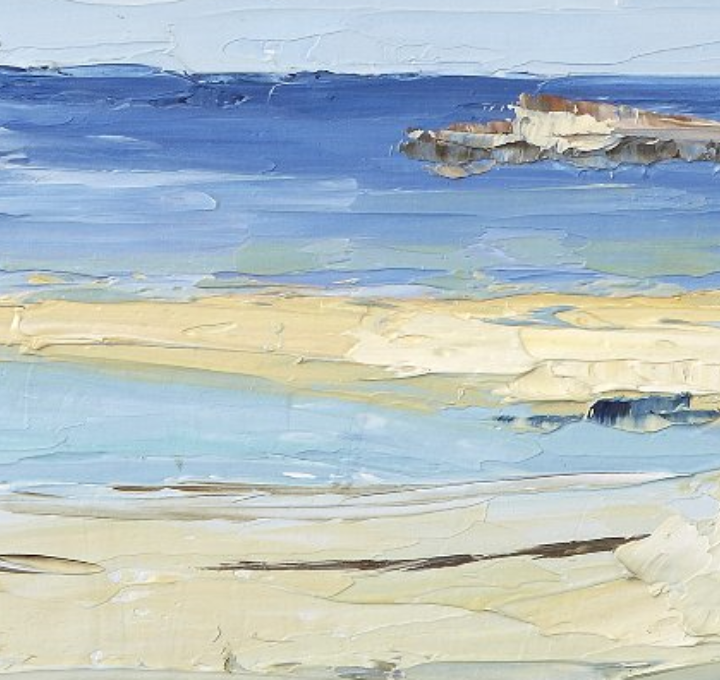 'The sand in the middle, so I like to stay there, it gives an idea of sun'
P (Co-curator)
| | |
| --- | --- |
| Creator | Detail of sunshine glowing on the sandy beach. |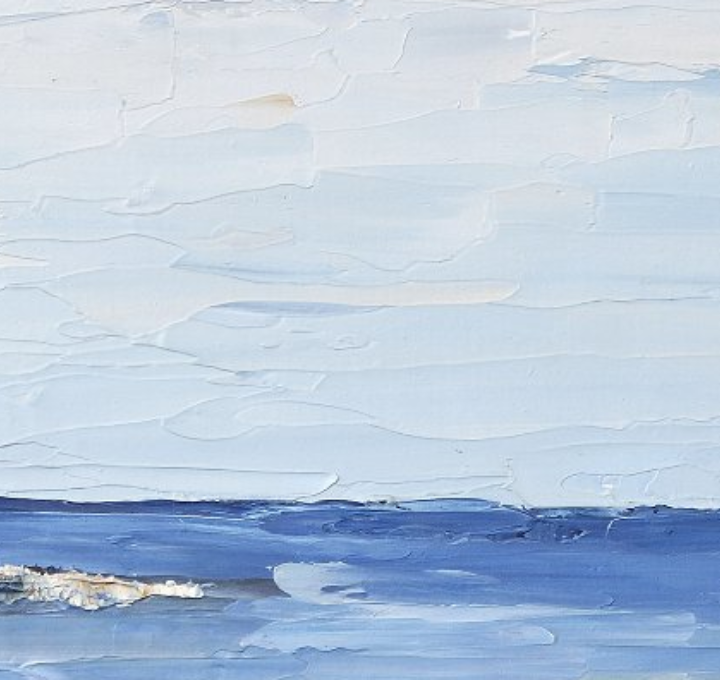 'The horizon and the sense of infinity'
P (Co-curator)
| | |
| --- | --- |
| Creator | Detail of the horizon and sky. |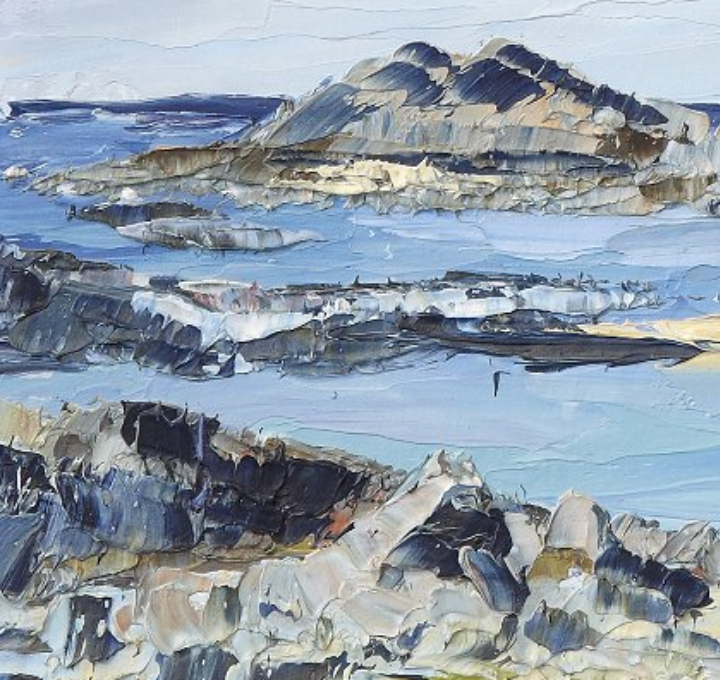 'The foreground, a bit like, you feel a bit like walking on this beach and exploring the rocks, going around this little bay'
P (Co-curator)
| | |
| --- | --- |
| Creator | Detail of the craggy, rocky shore. |
Follow along with a grounding exercise from Dr Kitty Wheater. Click play to start the audio, and then explore the image below using the zoom and movement functions.

If you would like to try it with another artwork, or, perhaps, as part of your daily mindfulness routine, the audio is also available for download by clicking on the menu icon and selecting "Download".
A Beach in Coll was painted by William Ferguson. The Isle of Coll is one of Scotland's Inner Hebrides, an archipelago off the west coast of mainland Scotland. There are only 150 residents who currently live on Coll, though it has always been a centre for human activity. Coll has been a home to humans from the Mesolithic hunter gatherers to the Gaels and Vikings. There are around twenty large and over a dozen small beaches, where the sand varies from rocky shores to white and soft. Much of Coll is a Royal Society for the Protection of Birds (RSPB) reserve for the wild and plant life that inhabit the isle.

A Beach in Coll

Object reference
EU0783
Through Your Eyes
Now, feel free to take what you need from this exhibition. Kitty's audio, which guides you through mindful engagement, is available to download here. Why not try using it with the related collections items below?