Through the Eyes of Serene, Pierce & Lucy
Exploring Mallorca Series No. 10

Meet Pierce (he/him), Serene (she/her) and Lucy (she/her), students at the University. They selected Mallorca Series No. 10 by Tomás Harris. As a group, they wondered whether the artist depicted Mallorca as it changed from season to season. They were drawn to the contrasting angular and curved brushstrokes, as well as the oval shape of the painting as a whole.
Pierce is a PhD student at the University, whilst also working in a teaching role. Although he enjoys teaching, he recognises that the University is a large space, making it difficult to break down the visible and invisible barriers present in university life. The painting reminds him of Autumn in Texas, and he said that although he often finds landscapes boring, this one remains engaging even after sustained periods of looking.
Serene is a first year Philosophy and Psychology undergraduate student who is passionate about origami, writing scripts and doodling. As she is a first year, she noted that she has not yet had the chance to fully engage with the University community. She said that the image impressed her, and the textures and shapes reminded her of cotton candy and pillows. Serene also noticed that the painting's style feels reminiscent of Japanese and Chinese art, due to the flattened perspective in the piece.
Lucy is a History undergraduate student who enjoys visiting heritage sites in her spare time. She has engaged wholeheartedly with university life, and is EUSA's elected Disabled Students Officer for 2022-3. The painting reminds her of Van Gogh and Monet - people who paint sunny locations - that take her back to summers at home where light and water meet to project striking colours into the sky.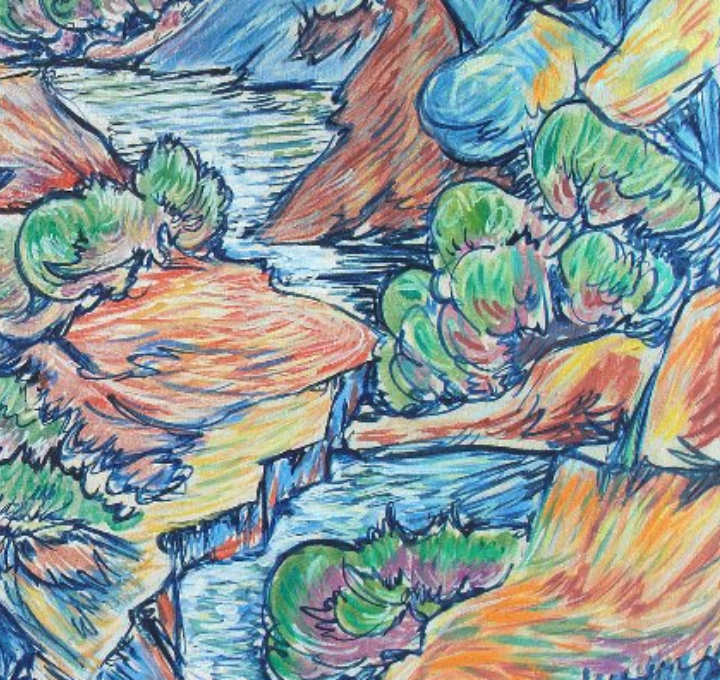 'I think it's interesting too how your eye goes up the right-hand side, there's some sort of river or something up the right, you always end up at the mountains down that little channel when you look at it for a long time'
Pierce (Co-curator)

| | |
| --- | --- |
| Creator | Detailed closeup of the river running through Mallorca Series no 10. |

Object reference
EU0791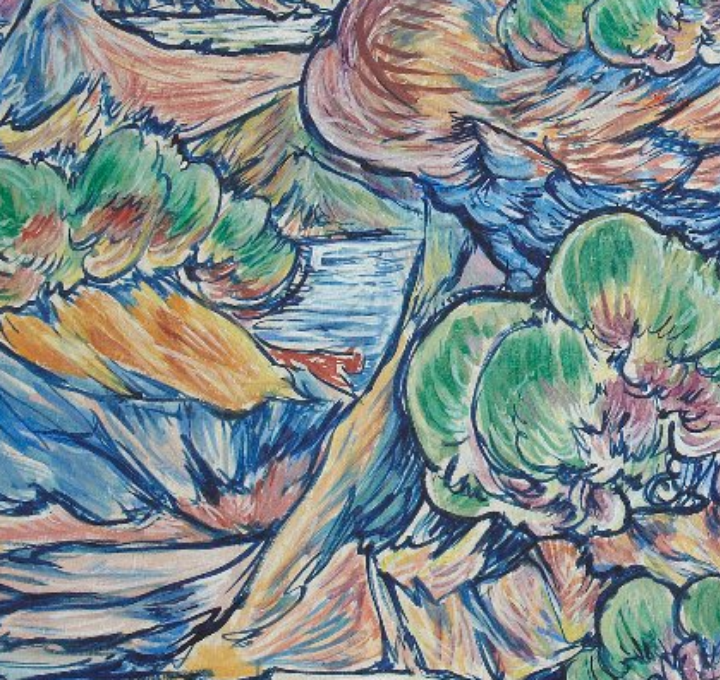 'The brushstrokes are very clear, and like you can see each, when you zoom in you can see the strokes very clearly'.
Serene (Co-curator)

| | |
| --- | --- |
| Creator | Detailed closeup of the of the brushwork in Mallorca Series no 10. |

Object reference
EU0791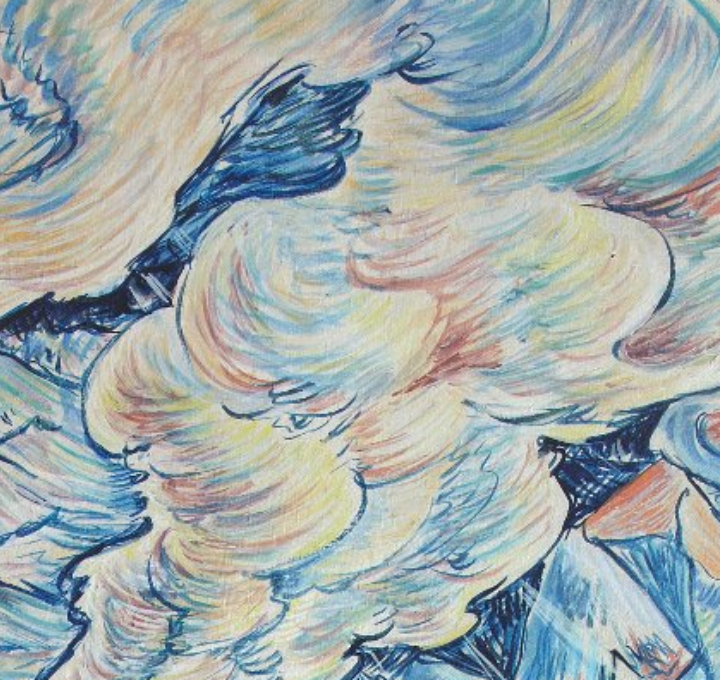 'I always find paintings of clouds like this stand out as the brushstrokes create a lovely, whimsical image, and they can be challenging to depict too. The addition of the orange, yellow and green to the clouds makes them even more interesting, adding a bit of chaos to the painting.'
Lucy (Co-curator)

| | |
| --- | --- |
| Creator | Detailed closeup of the clouds in Mallorca Series no 10. |

Object reference
EU0791
Follow along with a grounding exercise from Dr Kitty Wheater. Click play to start the audio, and then explore the image below using the zoom and movement functions.

If you would like to try it with another artwork, or, perhaps, as part of your daily mindfulness routine, the audio is also available for download by clicking on the menu icon and selecting "Download".
Mallorca by Tomás Joseph Harris is a series of ten oil landscape paintings, all created in 1953. The first five artworks in the series have a lighter colour palette, whilst the remaining paintings all have brighter hues. It is clear that Harris gradually became more experimental with his paintings by the end of the series, as Number 9 is a much wider, panoramic landscape and Number 10 has a distinctive oval shape.
Harris also had a very colourful life outside of painting. During the Second World War he was an officer for MI6 and worked alongside Juan Pujol García, a double agent at the heart of the Garbo deception, a secret operation that the Allied Nations carried out in the lead up to the Normandy Landings (also known as 'D-Day') in 1944. Together, Harris and García created a fake network of 27 fictional sub-agents in order to convince German intelligence that García (codenamed Garbo by the British) was a reliable spy. Outside of his wartime activities Harris was an avid art collector, and his extensive collection of over four hundred artworks by the Spanish romantic artist Francisco Goya is now part of the British Museum's collection.
Mallorca Series no 10

| | |
| --- | --- |
| Creator | Tomás Harris |
| Date | 1953 |

Object reference
EU0791
Through Your Eyes
Now, feel free to take what you need from this exhibition. Kitty's audio, which guides you through mindful engagement, is available to download here. Why not try using it with the related collections items below?