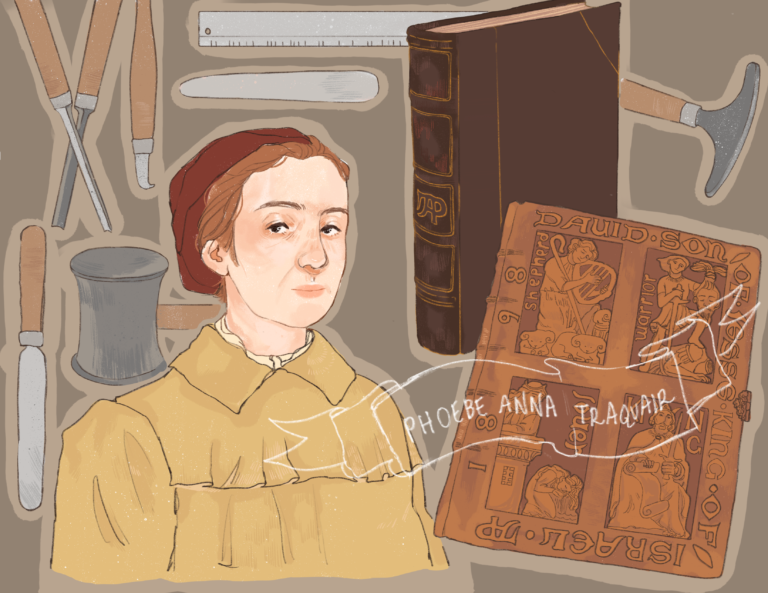 This section highlights book bindings and illustrative typesetting, physical attributes of material that too often become estranged from the content they adorn. Though decoration, these bindings and typesetting are not solely decorative; these features allow for greater insight into the work they enhance.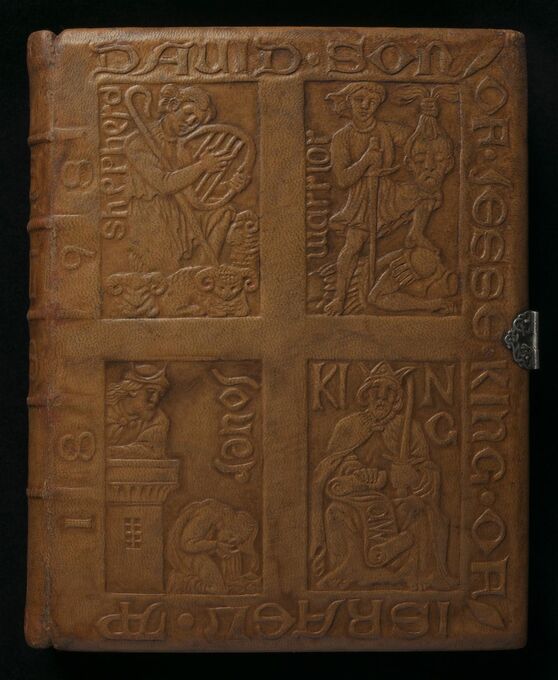 Phoebe Anne Traquair's binding
This tooled goatskin binding was hand-made by Phoebe Anna Traquair, one of the first and most prominent members of the Guild of Women Binders. A British organization, the Guild was founded in 1898 to showcase and promote female bookbinders and to train other women in the art.
Traquair's monogram is visible in the cover's lower lefthand corner, and scenes and symbolism of King David and the lion of Judah decorate the front and back covers.

Still curious? Read the University of Edinburgh Journal's article on Traquair or their memo on this acquisition.
Binding of the Psalms
| | |
| --- | --- |
| Creator | Phoebe Anna Traquair |
| Date | 1862 |
Who was she?
| | |
| --- | --- |
| Creator | Listen to Elizabeth Quarmby Lawrence (Rare Books and Literary Collections Curator at the Centre for Research Collections) on Traquair's life and work. |
The Defence of Guenevere is a collection of poems written by William Morris and published by his own Kelmscott Press. Morris founded the press in honour of the craftsmanship and artistic flair of medieval books, recreating every detail of that aesthetic. He commissioned special paper, ink, and typesets to uphold this standard.
This first page of The Defence of Guenevere is an exquisite representation of Morris' artistry and attention to detail.
The Defence of Guenevere Typesetting
| | |
| --- | --- |
| Creator | William Morris |
| Date | 1892 |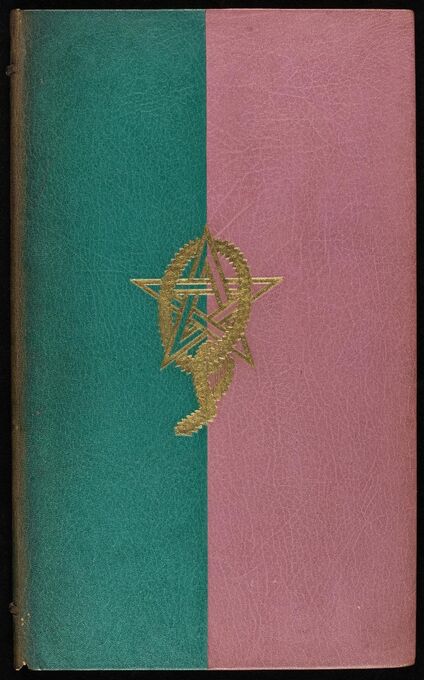 Decorative binding of Sir Gawain and the Green Knight
This 1890s copy of the 14th century Sir Gawain and the Green Knight is also a part of the Kelmscott Press collection. Here, the focal point is the binding: the unique colours and gold-plated design are a testament to the story within.

Gawain recreation
| | |
| --- | --- |
| Creator | William Morris |
| Date | 1890s |
| Place of creation | Kelmscott Press |
What does it symbolise?
| | |
| --- | --- |
| Creator | Listen to Danielle Howarth (Senior Archives and Library Assistant at the Centre for Research Collections) talk about the binding's significance. |